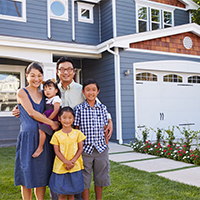 Data analytics firm CoreLogic reported home prices, including distressed sales, rose 6.7 percent from June 2016 to June 2017 due in part to the continued theme: limited homes for sale on the market. On a monthly basis, prices were up 1.1 percent.

June New Home Sales edged higher for the second straight month, the Commerce Department reported. New Home Sales rose a modest 0.8 percent from May. From June 2016 to June 2017, sales rose 9.1 percent. At June's sales pace, there is a 5.4-month supply of homes for sale on the market, up 1.1 percent from May, though still below the six-month supply that is considered normal.

In contrast, the National Association of REALTORS® reported Existing Home Sales fell 1.8 percent from May to June to an annual rate of 5.52 million units. Year-over-year sales were up just 0.7 percent, the second lowest reading of 2017. Total housing inventory was at a 4.3-month supply at the June sales pace and has fallen year over year for 25 consecutive months.

Retail Sales posted the second monthly decrease in a row in June, falling 0.2 percent from May versus the expected rise of 0.1 percent. Consumers spent less at department and food stores; receipts at gas stations also declined. However, year-over-year sales in June saw a 2.8 percent increase.

The inflation-reading Consumer Price Index (CPI) was unchanged from May to June. Year over year, CPI fell to 1.6 percent, the lowest annual number since October 2016, as costs declined further for gasoline and phone services.

At this time, home loan rates remain near historic lows due to tempered economic growth, mild consumer spending and tame inflation. Now is a great window of opportunity for those in the market to purchase or refinance a home.

If you have any questions about current loan products, or home purchase or refinancing opportunities, please reach out at any time.