"It's coming down. Snow pains on the motor veins. Keeps your business on the ground." Trip Shakespeare.
Inclement weather during March in the Midwest and Northeast sent a chill in residential new home construction after the unseasonably warm weather in February.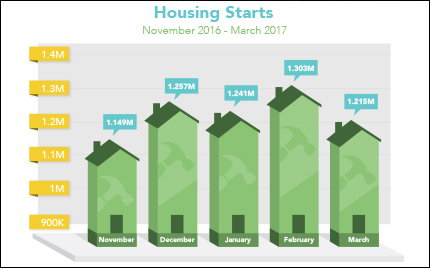 The Commerce Department reported that Housing Starts in March fell nearly 7 percent from February to an annual rate of 1.215 million annualized units, below the 1.256 million expected. February's reading was revised higher to 1.303 million from 1.288 million. From March 2016 to March 2017, Housing Starts were up 9 percent.
Hopefully, the weather will hold for future construction, as Building Permits in March were up 3.6 percent from the revised February reading and 17 percent above March 2016.
Builder confidence remained solid in April, though it did fall three points to a level of 68 on the National Association of Home Builders/Wells Fargo Housing Market Index. The index gauges builder perceptions of current single-family home sales, sales expectations for the next six months and traffic of prospective buyers. Readings over 50 indicate positive sentiment.
The National Association of REALTORS® reported that Existing Home Sales hit their highest pace in over 10 years in March, with sales climbing 4.4 percent from February to a seasonally-adjusted annual rate of 5.71 million units. March's sales pace is 5.9 percent above a year ago and surpasses January as the strongest month of sales since February 2007. However, demand continues to outweigh supply with inventories down 6.6 percent from a year ago.
If you or someone you know is in the market for a home, please contact me. Home loan rates remain at 2017 lows.