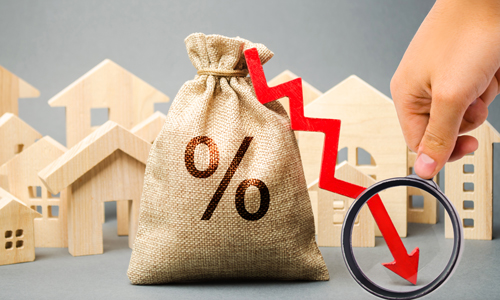 Home loan rates have enjoyed the 6th consecutive weekly decline as bond friendly news continues to hit the wires. Let's review what is happening in the financial markets, the economy and prepare for a big news week ahead.
"Yeah, it's alright, we're doin' fine, so fine. Thunderstruck, yeah, yeah, yeah" Thunderstruck by AC/DC.
Winning Streak Extends to Six
Through late October, we were experiencing one of the worst bond market/interest rate trends in our lifetime. But a culmination of weak inflation data, weak labor market news and rising expectations of an economic slowdown has prompted one of the sharpest rate improvements in decades.
How good has it been? Home loan rates have improved for six straight weeks after touching 8.00% in October. So, like the old hit show was titled "Eight is Enough".
Fed is Done
Part of the reason for the rate improvement is the idea the Fed has finished hiking rates. We will likely find out for sure over the next week as there is a ton of important data and a Fed Meeting. As of this moment, the Fed Funds Futures market is pricing in no more hikes and a reasonable chance of a rate cut by March.
History is on our side. If you look back at the previous four rate hiking cycles over the last 30 years, on average the first rate cut comes 8.6 months after the last hike. In this cycle, the Fed last hiked rates in July, which means, by historical standards we could see a rate cut by April.
Markets are forward looking, so the improvement in rates we have seen is the bond market expecting the Fed to be done.
Help Wanted Signs Disappearing
October showed the number of jobs available declined by 617,000 to 8.7 million. This number was less than expected and highlights the slowdown in the labor market. This is what the Federal Reserve wants to see as it slows demand and tamps down inflation. It is also yet another data point to support the Fed's next move being a rate cut as they want to be very careful not to push the economy into a recession with excessively higher rates.
The Quote of the Week
"Persistently high interest rates would present a "somewhat greater challenge" for the government." Treasury Secretary Janet Yellen
Quotes like these remind the world that higher rates are a problem and seeing this decline continue is both likely and welcome.
4.00%
The 10-year Note yield has declined from 5.00% to just above 4.00% in the past six weeks, highlighting the rapid rate improvement we discussed above. The 4.00% level is worth following closely. It may take even more bond-friendly news to push yields into the 3's, which virtually no one was forecasting six weeks ago.
Bottom line: Interest rates have improved at a record pace the last six weeks. Now our eyes are set on yet another huge news week, which may very well define whether rates can improve another level or not.
Looking Ahead
Next week's high-risk events will need to be digested by investors and the markets. The big event will be a two-day Fed meeting which kicks off on Tuesday and ends on Wednesday with the release of the monetary policy statement. Also, consumer inflation data from the Consumer Price Index (CPI) and wholesale data from the Producer Price Index along with a reading on consumer spending will be delivered. Job growth has been declining while the frothy Gross Domestic Product in Q3 2023 is now seen far lower in Q4. If this CPI report shows a much-needed decline in inflation (achieved because rents and energy prices are declining), it may very well confirm the Fed has finished raising rates.